Bizu Shoes combines high style, hand craftsmanship, unique fabrics, affordable luxury, and all-day comfort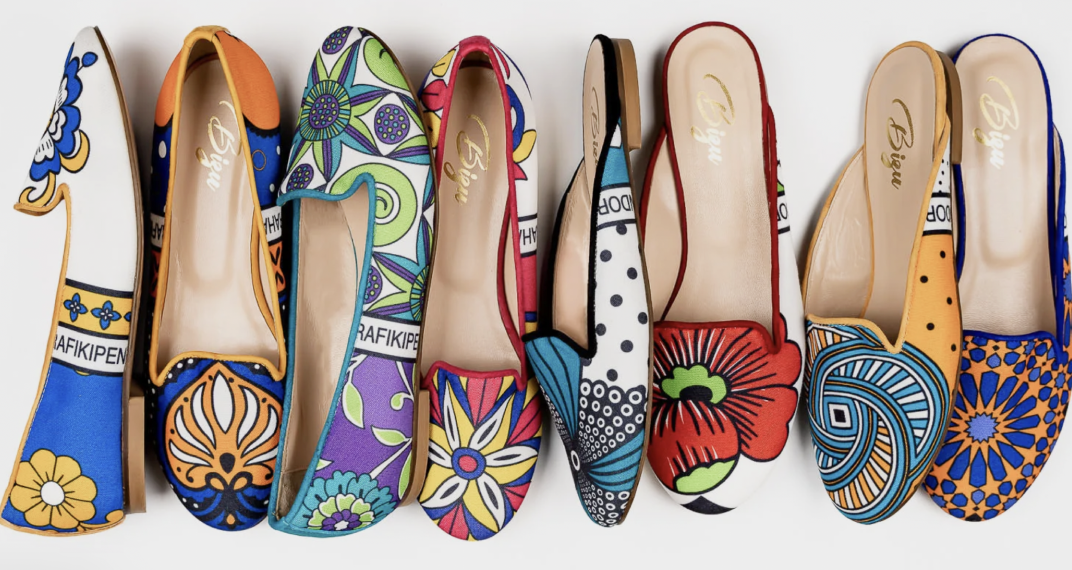 About Bizu Shoes
Bizu combines the beautiful Kanga, a bold patterned colorful fabric that has a very special place in East African life, and the finest Italian leather. Her shoes are designed for the women who are inspired by the different cultures of the world and embraces them in the clothing, jewelry, and fashion accessories she wears. They are for the bold, confident, and adventurous women who appreciate intricate details, a fusion of color and culture, and a fit that is flattering yet comfortable. Her shoes also tell a story about Bizu and the people she has met and places she has experienced. They are a culmination of her journey and her passions — and realizing a long-held dream. It is also a story of African life, empowering African women, and culture. Continue to read to learn more about how Bizu came to be.

Meet Our Founder
Bizu was born in the East African country of Ethiopia and her childhood memories were filled with the vibrant culture of villages and women wearing beautiful bold colors. In a twist of fate, she moved to Italy as a young woman to pursue her educational and professional dreams. Her experience in Italy had a profound impact on her, introducing her to a new culture, fashion, and the quality Italian craftsmanship the country is well known for. Her move to Italy also opened her eyes and inspired her to travel to many countries in South America, the Middle East, Asia, and Europe. Each trip introduced her to new styles of clothing, jewelry, and fashion accessories.

Her experiences made her realize that she has a passion for bold colors, especially the patterns she saw East African women wear. Patterns that express their personality and feelings. She was inspired and her shoes combine her life experiences in Africa and Italy to bring unique, high-quality shoes at an affordable price to the American market.

Our shoes are handcrafted and feature Kanga fabric, a bold colorful material, that has a very special place in East African life, You can read more about the Kanga fabric here. To increase durability, each shoe is constructed using a Nappa leather lining and leather soles. Each shoe is manufactured in a family-owned factory in Florence which has been in operation since the 1950s.

Each pair of Bizu Shoes comes with a complementary made-in-Africa tote bags. These bag are handcrafted by local women in East Africa and feature Kanga fabric. Bizu Shoes contribute to the empowerment of local East African women by using handcrafted good such as tote shoe bags in order to employ and improve the economic challenges faced in these regions of the world.

Our Values
We are committed to reducing waste and input costs and lessening our environmental impact. Our environment is make it stronger through the use of exhausting fewer resources. For us, this meant devising a list of criteria and impact metrics to measure the sustainability value of material choices. We only provide shoe boxes if requested. We believe the USPS packaging box is strong enough to protect tour shoes during shipping. We protect our shoes and create employment in East Africa by using high quality shoe bags made by women who are in economic hardship. These bags are made of Kanga fabric and can be reused for other purposes.